When releasing their Everyday Life album in Jordan, Coldplay made the shocking announcement that they would cease touring until methods could be found to make it more environmentally friendly. After three years in development, the band embarked on their Music of the Spheres world tour in March and are hoping it will encourage sustainability across the live music industry.
The first of six nights at Wembley Stadium was kicked off by 2021 Brit Rising Star winner Griff, who entertained the audience with her hit song "Black Hole". American musician H.E.R followed with a showcase not only of her vocal talents but of her guitar skill too, with incredible covers of Queen's crowd-pleaser "We Will Rock You" and Lenny Kravitz's "Are You Gonna Go My Way". To finish hyping-up the fans, a dance battle was held between the two halves of the stadium. Two kinetic floors, which are one aspect of Coldplay's green-energy scheme, were used and electricity was generated as people danced to club bangers like House of Pain's "Jump Around"!
Coldplay started the show with a dazzling display of fireworks to accompany the rousing chorus of "Higher Power" – the lead single from Music of the Spheres, which draws inspiration from what music might sound like on other planets. The band continued with two classic hits, "Adventure of a Lifetime" and "Paradise"; I'm sure I won't be alone in saying that they made me 'feel like I'm alive again'. Nothing I have ever witnessed compares to being part of a 90,000-strong crowd chanting along to "Viva La Vida"!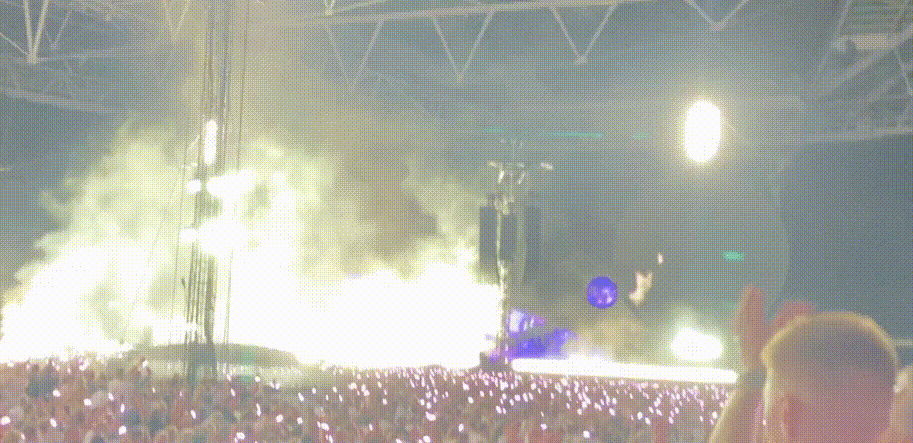 H.E.R shone when she joined Coldplay on stage, standing in for Selena Gomez in a rendition of "Let Somebody Go". Another stand-out moment from the night was the electrifying performance of "People of the Pride" (my favourite song from the new album, which has a riotous energy and was created but remained unfinished when writing for Viva La Vida).
Alongside the new singles, the setlist included some numbers from the depths of Coldplay's back catalogue. One addition specific to the Europe leg of the tour has been "Politik" – a song from the 2002 album A Rush of Blood to the Head that is simply made to be heard live, with its almost deafening drums throughout the chorus reverberating around Wembley. It's amusing that we have TikTok to thank for the epic boost in popularity of "Sparks", which is a beautiful ballad from Parachutes that was released before I was born. I never believed I would get to experience the song live and it was such a magical moment!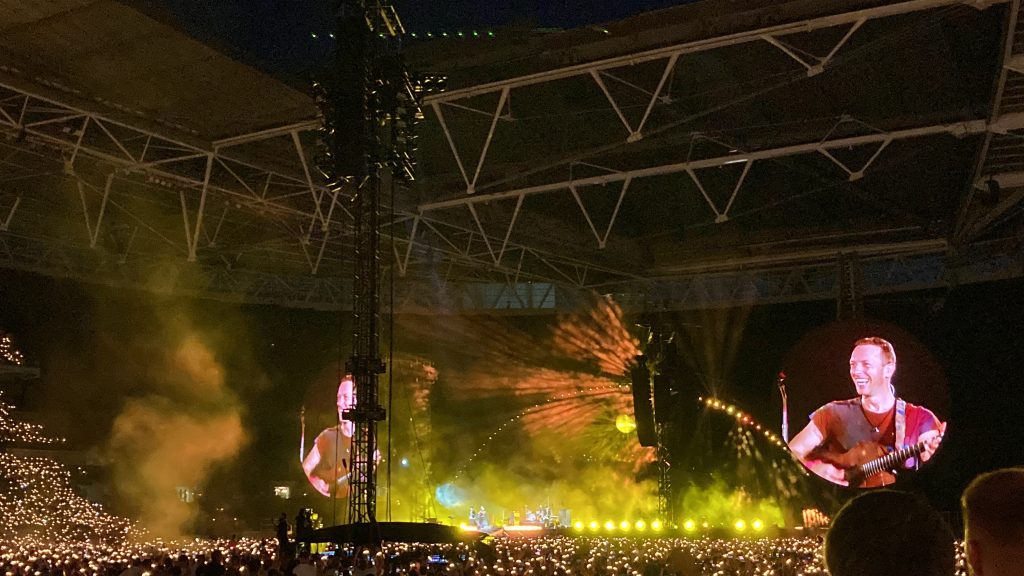 It's safe to say that a defining feature of a Coldplay concert is the light-up wristbands wielded by the audience members, which bathed Wembley in a golden glow during "Yellow" – a song that even those who weren't fans knew all the lyrics to. My highlight of the night has to be "A Sky Full of Stars"; after playing the first verse, Chris Martin stopped the song and asked the crowd to put their phones away and experience the moment together as 'one big band'. It's no understatement to say that the energy skyrocketed to new heights. Not even Craig David's surprise appearance could match it!
It was brilliant to see the band actively endorsing so many incredible charities that are helping the planet, whether through reforestation with One Tree Planted or reducing poverty with Global Citizen. Although Coldplay initially faced backlash over their tour's sustainability goals, you can see the benefits that the small changes are having before your eyes (as the kinetic floors and an array of electricity-generating bikes are able to power the band's C Stage at the following day's concert).
Coldplay closed the show with their latest single, "Biutyful", and it was certainly a fitting ending to such a beautiful night. This monumental tour will always be a memorable one for me and I hope that its success will pave the way for future artists to share their music while saving our planet!
Music of the Spheres is out now.