On this week's What A Week we covered the NSS survey and Dylan Farrow's allegations of sexual assault against Woody Allen. If you missed the show, you can listen back on our Mixcloud. To keep update through the rest of the week follow us on twitter.
On Friday 26th some members of the station took part in the Big Sleep Out event to raise awareness and funds for Four Walls, a local homeless charity. We met our £200 goal. On behalf of the news team and Insanity Radio we'd also like to thank everyone who supported and donated to our justgiving page! The news team will also be airing a podcast covering homeless in Windsor on the 22nd of February so make sure you keep updated on our social media for more information. If you would like to get involved please email [email protected]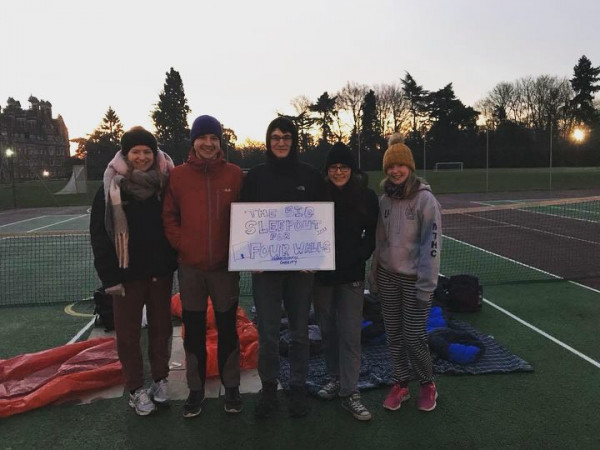 In National News:
Donald Trump 'not aware' of any royal wedding invite.
• Donald Trump has said he is not aware of any invitation to attend Prince harry and Meghan Markle's wedding.
• When Piers Morgan said whether he had received an invite for the 19 May wedding, the US president said 'not that I know of'.
• American actress Ms Markle was a Hillary Clinton supporter in the 2016 US election, and has referred to Mr Trump as 'divisive' and a 'misogynist'.
• When asked if he would like to attend the wedding at Windsor Castle, the president replied: 'I want them to be happy, I really want them to be happy.' He also said 'they look like a lovely couple.'
Questions over future funding for the NHS.
• Theresa May has called for discussions about the future of NHS funding to remain private after Boris Johnson publicly called for more money after Brexit.
• Before Tuesday's cabinet meeting, it was widely reported that the foreign secretary would pitch for a £100m a week 'Brexit dividend' for the NHS.
• No. 10 said May chaired a discussion on post-Brexit funding options but made it clear that conversations should be private.
The Presidents Club.
• Financial Times journalist, Madison Marriage, went undercover at a Presidents Club charity dinner.
• The reporter worked as a hostess at the annual men-only dinner.
• The only women at the dinner were hired hostesses who had to sign a 5 page non-disclosure agreement.
• The event raised more than £2 million.
• The charity auction offered a range of prices including a course of plastic surgery to 'add spice to your wife' and naming a character in comedian David Walliam's upcoming children's book.
• Walliams, who hosted the event, has since withdrawn his prize after several bookshops announced their decision to pull his bestsellers from their shelves in response to th sexual harassment scandal.
• However, charities and hospitals are refusing donations in awake of the scandal.
• David Meller helped to organise the dinner. He has now quit his role at the Department for Education.
• Children and Families Minister Naghim Zahawi has been reprimanded for attending the male-only gala.
• Mr Zahawi left the fundraiser early but his presence in any capacity has brought him under fire due to the event's dress code and non-disclosure agreements for waitresses.
• The Presidents Club has said it's closing following the allegations.
• The club announced it was investigating and the organisers were 'appalled by the allegations of bad behaviour.'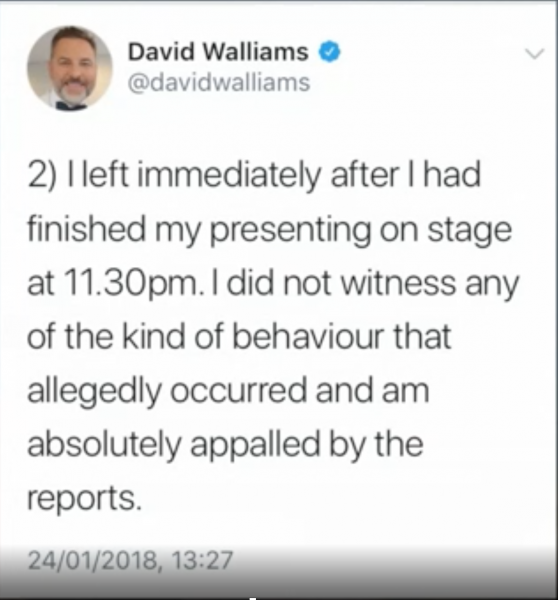 Male BBC employees volunteer to close the gender pay gap.
• Many leading male presenters in the BBC have agreed to take a pay cut over recent gender pay gap issues within the broadcasting company
• Jeremy Vine, John Humphrys, Huw Edwards, Jon Sopel, Nick Robinson and Nicky Campbell have all agreed to reduce their salaries
• This is directly following the resignation of Carrie Gracie, BBC China Editor, in protest against unequal pay between male and female editors in the BBC.
• Gracie is still awaiting a grievance report from the BBC which they stated would be complete by Christmas.
• Humphrys has said that his pay cut is 'fair' and that he feels that it was 'entirely proper' for him to take a pay cut.
• Humphrys has voluntarily taken 3 pay cuts. It has been reported his pay will be reduced to around £300,000.
• Last year the BBC disclosed Humphrys was paid between £600,000- £649,000.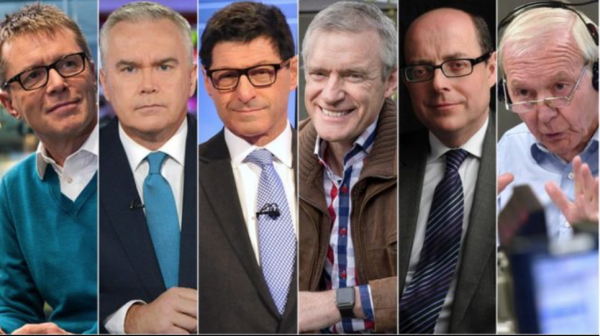 15-year old boy from Leeds detained after a dangerous driving incident.
• A 15-year-old boy in Leeds has been detained after causing the deaths of 5 people due to dangerous driving
• After stealing a Renault Clio, the young man (who cannot named due to his age) took the lives of his victims, 4 of whom were under the age of 16
• The boy reached speeds of 88 miles per hour whilst driving in the residential area of Meanwood
• The boy was apprehended after crashing the car into a tree, with local police describing the scene as 'complete carnage'
• The boy has been sentenced to a detention of 4 and a half years
In International News:
Kabul attack: Taliban kill 95 ambulance bomb in Afghan capital.
• A suicide bombing has killed at least 95 people and injured 158 others in the centre of Afghanistan's capital, Kabul, officials say.
• Attackers drove an ambulance laden with explosives past a police checkpoint in a secure zone, home to government offices and foreign embassies.
• The target is believed to have been an interior ministry building, but many people were hit while walking by.
• The Taliban have said they carried out the tattack, the deadliest for months.
Steve Wynn: US casino mogul quits as Republican finance chair.
• US casino mogul Steve Wynn has resigned as finance chair of the Republican National Committee (RNC) amid sexual harassment allegations.
• A Wall Street Journal report on Friday alleged that the 76-year-old billionaire harassed massage therapists and forced one staff member to have sex with him.
• Mr Wynn has denied wrongdoing, calling the stories 'preposterous'.
• RNC chair Ronna McDaniel told US media she had accepted his resignation.
• Mr Wynn has blamed his ex-wife, whom he is fighting in court, for the 'slander'.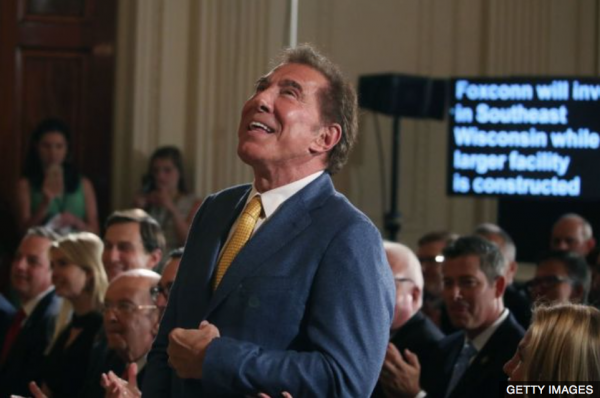 South Korea's deadliest fire for nearly a decade.
• A fire at a hospital in in the city of Miryang, South Korea, which is about 270km south-east of Seoul, killed at least 37 people and left more than 70 injured on Friday.
• There is speculation that the fire started in the emergency room at Sejong Hospital.
• There were 200 patients in the building at the time in addition to the nursing home that is adjacent to the building.
• It is considered to be South Korea's deadliest fire in nearly a decade.
• Death toll is expected to rise even higher.
In Entertainment News:
Russia bans 'The Death of Stalin'.
• Officers of the Russian police in Moscow have investigated a cinema screening the satirical film 'The Death of Stalin', .
• The Russian culture ministry had banned the film from cinemas after the Culture minister Vladimir Medinsky labelled the film as 'an insulting mockery of the Soviet past'.
• The Death of Stalin currently sits at 97% on the film review-site Rotten Tomatoes.
The Grammys.
• For those of us in the UK, the show will be aired on 4Music at 7pm tomorrow.
• Canadian star Drake is set to boycott the show. He refused to submit his music for consideration after the Grammys relegated him to the rap categories last year.
• The Canadian star said he felt 'alienated' by organisers 'putting me in that category, cause it's the only place you can figure out where to put me.'
• Drake furthered his statements arguing, 'maybe because I've rapped in the past or because I'm black, I can't figure out why.'
• The #TimesUp movement will also be reflected.
• Halsey, Kelly Clarkson, Cyndi Lauper, Dua Lipa, Rita Ora and others plan to wear white roses to the ceremony to support the #TimesUp movement.
• Popstar Kesha will also be performing Praying- a song that addresses her relationship with producer Dr Luke, who she claims, verbally, physically and sexually assaulted her (charges he denies.)