This week the News Team covered: the Americanisation of Black History Month; climate change and Storm Brian; the allegations against Harvey Weinstein and finished with fake news. To listen to the show you can visit our Mixcloud where you can hear interviews on the Austrian elections that we ran out of time to discuss on air. Follow us on twitter to keep updated throughout the week!
In National News:
Heathrow security threat
• Heathrow Airport says it has launched an internal investigation after a USB stick containing security information was reportedly found on the street.
• The USB stick reportedly contained 76 folders with maps, videos and documents, including details of measures used to protect the Queen.
• Some files disclosed the types of ID needed to access restricted areas, a timetable of security patrols and maps pinpointing CCTV cameras.
• One document highlighted recent terror attacks and talked about the type of threat the airport could face.
• The statement from the airport said Heathrow's "top priority" was the safety and security of passengers and staff.
Has society become desensitised to sexual harassment in the workplace?
• Half of British Women and a fifth of men have been sexually harassed at work, a BBC survey says.
• The ComRes poll for BBC Radio 5 live spoke to more than 2000 people and was commissioned in response to the recent allegations made against Harvey Weinstein.
• The results of the survey show that more than a quarter of the people questioned had suffered harassment in the form of inappropriate jokes and nearly one in seven had suffered inappropriate touching.
Gina Miller named UK's most influential black person
• Businesswoman Gina Miller has been named as Britain's most influential black person.
• The 52-year-old led the successful Brexit legal challenge which ruled parliament had to vote on whether Theresa May could trigger Article 50.
• Ms Miller topped the 2018 Powerlist of 100 people, which recognises those of African and African Caribbean heritage.
• British Vogue editor Edward Enninful and grime artist Stormzy have also been included in this year's list.
• Those named were decided by an independent panel – including former High Court judge Dame Linda Dobbs and former Apprentice winner Tim Campbell. They rated nominees on their "ability to change lives and alter events".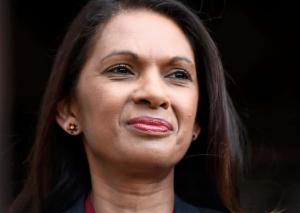 Drivers of older, more polluting vehicles will have to pay almost twice as much to drive in central London.
• Mayor Sadiq Khan's £10 T-Charge, which mainly applies to diesel and petrol vehicles registered before 2006, has come into force. It covers the same area as the existing congestion charge zone, bumping up the cost to £21.50 for those affected. Opponents said the scheme would "disproportionately penalise London's poorest drivers".
• The measure is the latest attempt by Mr Khan to improve air quality in the capital and according to the mayor's office, will affect 34,000 motorists a month.
In International News:
Catalonia independence: Huge pro-Spain rally in Barcelona
• Spain poised to strip Catalan Government of powers after their push for independence.
• The Senate in Madrid are set to vote on imposing direct rule after the catalan government refuse to leave the drive for independence.
• The Catalan parliament will meet in Barcelona where it will consider a declaration of independence.
• A major rally calling for Spanish unity is starting in Barcelona a day after Catalonia was stripped of its autonomy for declaring independence.
• Many of those protesting in the region's largest city brought signs calling for sacked Catalan leader Carles Puigdemont to be jailed.
• Mr Puigdemont was dismissed as Spain's central government took control of Catalan institutions.
• Downing Street has announced that the UK will not recognise Catalan's declaration of independence as their vote for independence has been declared illegal by Spanish courts.
• In contrast, the Scottish government has said they respect Catalan's position and that they should have the right to determine their own future.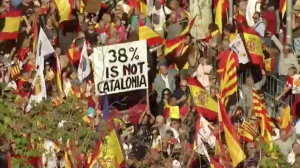 New Zealand's youngest female Prime Minister
• Jacinda Ardern has become New Zealand's youngest female Prime Minister after forming a centre left coalition government between the Labour Party, of which she is the leader, and New Zealand First.
• The coalition will also be supported by the green party.
• In the elections held in September, in which Labour came second, no party was able to secure a majority.
• This will be Labour's first time in government since November 2008
Two most-wanted Isil militants in south-east Asia killed in Philippines
Muslim Extremist and Separatist rebels in the Philippines have taken a significant blow in their fight, this week when their leader Isnilon Hapilon died.
Omar Maute, leader of the Isil-linked Maute group, was also killed during a final push to retake the southern Muslim city of Marawi, which has been besieged by Islamist militants since May.
Can advances in technology save animals?
• A drone company has announced they are watching over endangered wildlife in game reserves in Southern Africa.
• In 2015 poachers killed 20,000 African elephants and 1,300 rhinos. Poachers tend to operate at night, making it hard to catch them.
• However, the drones are equipped to see in the dark, allowing the company to remain vigilant.
• So far, the company have proved that having drones hovering over areas reduces poaching massively, and in some cases – altogether.
In Sports News:
Antony Joshua remains undefeated following Takam victory
• The British WBA and IBF heavyweight champion built on his April win over Wladimir Klitschko by stopping Takam in 10 rounds.
• Following his success in the fight Joshua targeted Deontay Wilder and Joseph Parker.
• "I want the other two belts out there, whether it's Wilder first or Parker."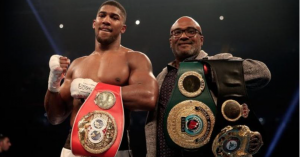 Fifa has shown it does not care about the women's game by naming a little-known striker on its female player-of-the-year shortlist, World Cup-winner Megan Rapinoe says.
• The nominees are US midfielder Carli Lloyd, Dutch forward Lieke Martens and Venezuelan Deyna Castellanos, 18, who does not play in a professional league.
• "The award just doesn't hold a lot of weight when you've got someone on the list I've never heard of," said USA's Rapinoe, who has 127 caps and won 2012 Olympic gold and the 2015 World Cup.