On Thursday 8 March the news team will be back will a follow up on the UCU strikes. If you missed our episode on the strikes last month then you can catch up on our Mixcloud. You can also hear other episodes and podcasts so give it a listen! To get daily news updates, follow us on twitter.
In National News:
Scottish government warns employers over snow days pay docking.
Scottish ministers are considering action against employers for docking the wages of staff who could not make it to work because of the bad weather.
The public was advised not to travel during the worst of the snow last week.
Scottish Transport Minister Humza Yousad said he has been contacted by people who were facing disciplinary action or potential docking of wages.
He told the BBC that was not acceptable and he would look at the legal position.
Royal wedding: Windsor Castle invitation for public.
Prince Harry and Meghan Markle have opened up their wedding to over 1000 members of the public .
Those present at Windsor Castle will be able to watch the arrival and departure of the bride and groom, but not the ceremony itself.
Among those invited are charity workers, school children, royal household members and Windsor residents.
A statement from Kensington Palace said that they wanted "members of the public to feel part of the celebrations too.'
If you want you want to hear more about how the local council are planning to tackle Windsor's homeless problem in the run up to the royal wedding then listen to our podcast on our Mixcloud.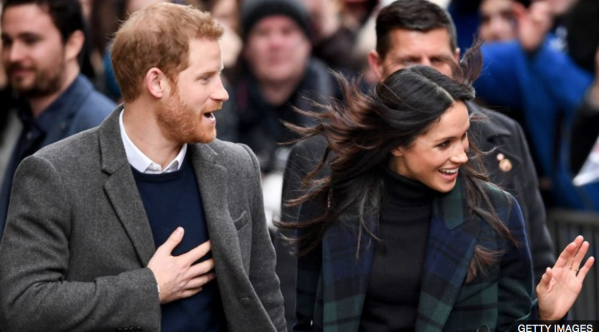 Brexit: Theresa May urges EU to buy into 'ambitious' vision.
Theresa May has urged the EU to get on with discussing her 'ambitious but practical' vision for economic relations with the UK after Brexit.
She said she was confident of a deal while accepting the UK could not expect the same market access in some areas.
In the Prime Minister's long-awaited speech on Brexit, she outlined more details of what she wants from the UK's future trade arrangements with the EU.
Mrs May stated that Brexit can be win-win for both the UK and Europe.
Two men jailed for Leicester manslaughter assault:
Two men have been jailed for the manslaughter of a man found dead with a head injury following an assault.
Christopher Crane was jailed for 13 years with an additional four on licence, while Christopher Pendery was sentenced to 10 years.
Carl Pask, 47, was found dead in his flat, in Kimberley Road, Evington, Leicester, in March 2016 after his family reported him missing.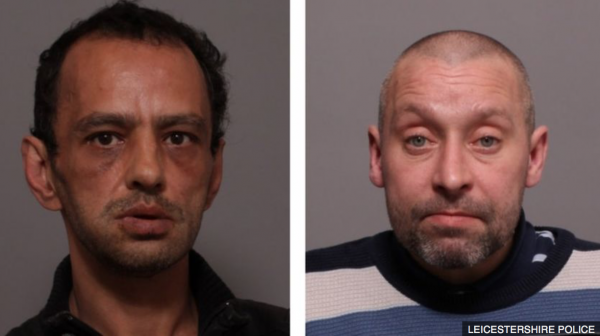 In International News:
Italy election: Early exit polls point to hung parliament.
Voting has now closed in Italy, in one of the most uncertain elections in living memory.
The elections for the Italian parliament currently indicate that a hung parliament is likely with Silva Berlusconi's centre right coalition winning the most seats, with the anti-establishment 5-star movement being in second place.
The election, which has been hugely divisive has mainly focused around immigration 
and the economy.
Florida high school re-opens after one of the worst mass shootings in the US.
The Florida high school at the centre of one of the worst mass shootings in the US is reopening, two weeks after a former student killed 17 people there.
Students and teachers were preparing for an emotional return to Marjory Stoneman Douglas High School.
Armed guards were present and grief counsellors were on hand to help those returning to school, CBS reports.
It comes as Florida lawmakers proposed a package of gun control measures.
They envisaged raising the legal age to buy rifles from 18 to 21 and giving police more control to seize weapons from mentally ill people.
The school's Building 12, the site of one of America's worst recent mass shootings, will remain closed and cordoned off indefinitely.
In other gun law news, President Donald Trump has hailed a meeting with a top National Rifle Association (NRA) lobbyist a day after saying that lawmakers were 'petrified' of the organisation.
Shortly after the meeting on Thursday evening, Mr Cox tweeted that 'POTUS and VPOTUS support the Second Amendment.'
The Second Amendment states that Americans have the right to bear arms.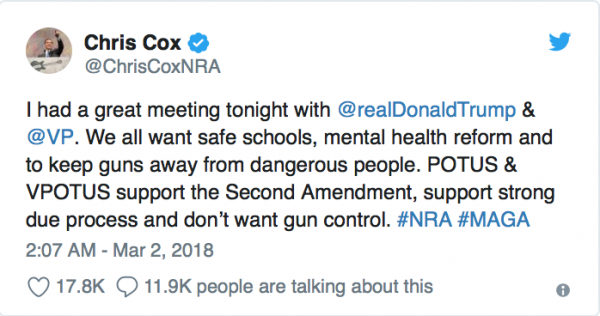 Syria war: Residents flee Eastern Ghouta bombardments.
Residents are reported to be fleeing the rebel-held Eastern Ghouta enclave in Syria as the situation there was described as "beyond critical".
Syria's military appears to be advancing on several fronts as it tries to retake the enclave just to the east of the capital, Damascus.
Government forces have now taken 25% of the area, UK-based Syrian Observatory for Human Rights monitors say.
A UN aid convoy planned for Sunday has not been able to enter the enclave.
The fighting since 18 February has left more than 600 people dead, many of them children.
A The UN Security Council demanded on Saturday that all parties cease fighting for 30 days "without delay". But the Syrian government's ally Russia said the truce would begin only once they had agreed how to implement it.
The UN said it had failed to obtain permission from Syrian officials to allow 40 trucks carrying humanitarian supplies to enter the key town of Douma.
At least 541 people have been killed by government air and artillery strikes since hostilities escalated eight days ago, according to a medical charity.
In Business News:
Spotify to share stock.
Spotify the world's biggest music streaming service, has filed paperwork to start trading its shares publicly on the New York Stock Exchange.
The firm said it expects to sell at prices that could value the firm at more than $24bn.
Toys R Us enters administration.
In business news this week Toys R Us has gone into administration, putting 3,000 UK jobs at risk.
Administrators have been appointed to begin 'an orderly wind-down' of the UK's biggest toy retailer following the failure to find a buyer. They said that all 105 Toys R Us stores will remain open until further notice.
Joint administrator Simon Thomas said: 'Whilst this process is likely to affect many Toys R Us staff, whether some or all of the stores will close remains to be decided.'
Toys R Us has been facing a £15m tax bill. However, poor sales have made it unlikely that the payment will be paid.
In Sporting News:
The British sports legend, Sir Roger Bannister has died aged 88. 

The long distance endurance runner was world famous for his record breaking of the 
four minute mile.
Furthermore, Bannister won gold at the 1954 commonwealth games in the same event, 
and then went on to become a leading neurologist.
In 2014 bannister revealed he had the neurological disorder, Parkinson's disease which 
was diagnosed in 2011.
IAAF president Lord Coe, who ran a mile world record of 3:47.33 in 1981, said: "This is 
a day of intense sadness both for our nation and for all of us in athletics.
A statement from his family said: "Sir Roger Bannister, died peacefully in Oxford on 3 March, aged 88, surrounded by his family who were as loved by him, as he was loved 
by them.