To keep up to date with all things news worthy follow us on twitter, @InsanityNews. You can also listen to our fortnightly news show What A Week Thursdays 6pm! If you missed this week's show you can listen back on our Mixcloud. For quick news updates on the go; tune in at 12pm and 7pm daily for our bulletins.
In National News
What Would 'no Brexit deal' Look Like?
Transport Secretary Chris Grayling announced that British farmers would produce more food themselves in the event of a no trade deal post Brexit.
Grayling's comments are a response to industry claims that a no-Brexit deal could result in an average 22% tariff on all EU food bought by British retailers.
However, Grayling argues that a no-Brexit deal would force the British market to rethink.
It would force self-sustainability as supermarkets would buy more from home, benefitting British farmers.
This poses the risk of internal competitiveness and domestic producers could increase prices of household items.
Elsewhere, Chancellor of the Exchequer Philip Hammond called the EU's Brexit negotiators 'the enemy' which he has since described as 'a poor choice of words.'
Earlier this week, Hammond was also criticised by a former chancellor for trying to sabotage negotiation talks.
Government Criticised over Universal Credit System.
The Government continues to face criticism from both Labour and Conservative MP's with regards to the Universal Credit system.
The system aims to replace a series of current in and out of work benefits with a single benefits payment.
Controversy surrounds the rollout due to a series of errors and flaws. This includes a delay of up to 6 weeks for people moved onto the new system, resulting inability to pay rent and afford food.
Pressure on the Government has increased as Labour announces it has secured a vote on Universal Credit. A sizeable group of Conservative MP's have indicated they will defy the Party and vote alongside Labour.
There's a Storm Ahead:
The Met Office has announced an amber wind warning as 90 mph winds head towards the UK and North Ireland as category 3 Hurricane Ophelia approaches.
The peak of the winds will be on Monday between 3pm and 10pm, particularly affecting western parts of the UK.
The high temperatures over the weekend and the beginning of the forthcoming week are a result of Hurricane Ophelia forcing the warm air towards the UK.
The Republic of Ireland's Met Office has issued a red warning for Wexford, Galway, Mayo, Clare, Cork, Kerry, Limerick and Waterford.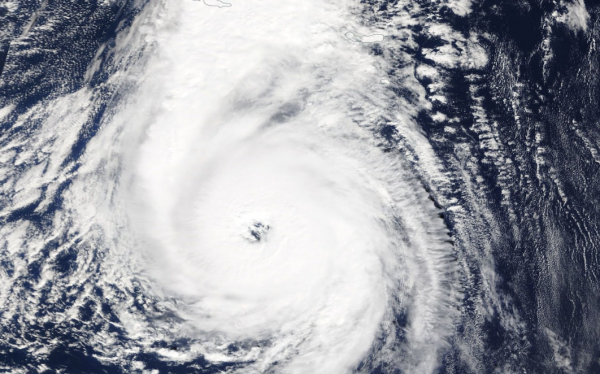 In International News:
Austria Set To Elect The World's Youngest Leader.
Sebastian Kurz served as Europe's youngest-ever foreign minister, aged just 27.
Now aged 31, Mr Kurz is the leader of Austria's conservative People's Party, who are set to win the country's general election.
Projections suggest they are set to win more than 31% but it is unclear which party will finish second.
Mr Kurz has focused his campaign on immigrant issues. He pledges to: shut down migrant routes to Europe, cap benefit payments to refugees, and bar immigrant benefits until they have lived in Austria for 5 years.
If Mr Kurz succeeds in the election he will be the world's youngest national leader.
Trump Denounces Iran Nuclear Deal.
President Trump has announced he will not certify the Iran nuclear deal, alongside a review into the effectiveness of such a deal.
This has drawn significant criticism globally, with other countries pointing to the fact that an independent committee has found no evidence that Iran is attempting to bypass the conditions of the agreement.
The EU has stated that the US is not the only signatory to the Iran deal, and that they will continue to uphold the agreement in full.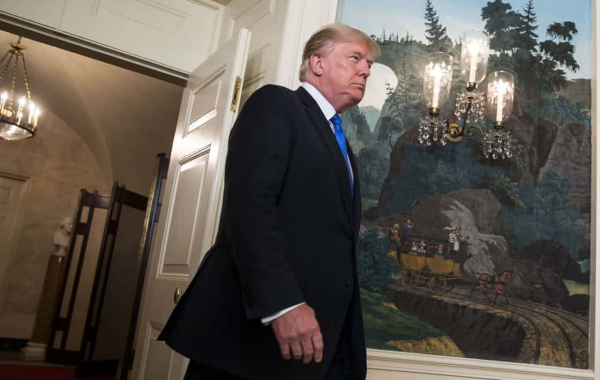 Most Fatal Wildfires In Californian History Continue To Blaze.
Wildfires in California means the number of deceased continues to rise.
With 40 people dead and hundreds still missing, the six days of wildfires in the American state has been called 'one of its greatest tragedies.'
Over 10,000 fire firefighters, 880 fire engines, 134 bulldozers and 14 helicopters continue to battle the 16 remaining blazes.
The fires spread so quickly and are so difficult to control because of the following reasons:
California had its hottest summer on record with less than 25% rainfall. This dried out vegetation, making it more  susceptible to wildfire.
The 'Diablo Winds' provided winds up to 70 mph which spread the flames faster than firefighters could tackle them.
California's growing population meant that homes and other structures are increasingly built in 'very high severity' zones that are close to areas of woodland.
Terror Attack in Somalia
A bomb attack in the Somali capital Mogadishu on Saturday is now known to have killed at least 230 people.
It is the deadliest terror attack in the area since the Islamist al-Shabab group launched its insurgency in 2007.
It is not clear who staged the bombing, but Mogadishu is a target for al-Shabab militants battling against the government.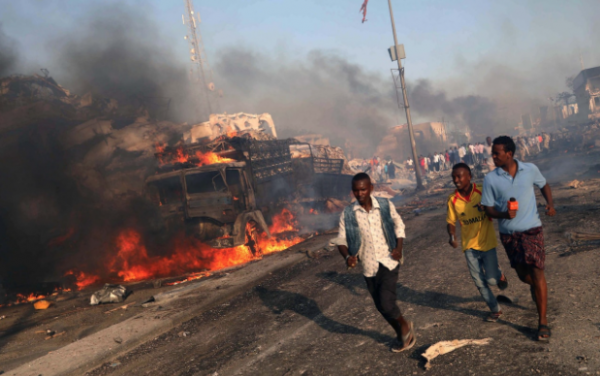 In Entertainment News:
UK and New York Police Are Investigating a Number of Sexual Assault Allegations Involving Producer Harvey Weinstein.
The Metropolitan Police say he is accused of assaulting three women in separate incidents in London between the late 1980s and 2015. However, no arrests have been made.
The Hollywood film producer has 'unequivocally denied' any allegations of non-consensual sex.
More than twelve women – among them actresses Angelina Jolie, Gwyneth Paltrow, Rose McGowan and Cara Delevingne – have made accusations against him.
Weinstein has received more than 300 Oscar nominations and won 81.
Yet, on Saturday 14th October, the organisation behind the Oscars voted to expel Weinstein.
Weinstein's wife, Georgina Chapman, has announced she has left the movie mogul following growing 'unforgivable' claims of sexual assault.