Peace Love Reggae Dub's Brooking Roffey reviews Boomtown 2022. Did it live up to the hype?
Boomtown is back and better than ever. It was wonderful to return to the sunny hills of Winchester for Boomtown's re-debut: Chapter 1 – The Gathering.
The event was filled with live artists from all over the world, as well as an absolutely mega lineup of DJs and MCs – from the likes of mungo's Hi-Fi, to David Rodigan; the reggae scene was covered, and on the DnB side, we had Noisia's last ever UK set and so much more.
Boomtown is an event that prides itself on being more than a regular festival. You don't just get music. You don't just get to dance. You get a full experience equipped with theatrical inputs like no other festival on the planet. There was no short supply this year of flash mobs and scenes to take you in, as you walked around the wonderful city of Boomtown. And Boomtown is just that: a city set up in the middle of the fields, for you to enjoy your favorite music, it was hot weekend and as such water was an absolute must and thankfully the festival organisers had a great network of water taps for everyone to use.
We arrived on the Wednesday and we quickly got set up in The Valley camping area: a tradition for us and our crew. Once we'd set up camp and relaxed for a few moments, we decided we wanted to go and check out one of those early Wednesday acts, and we were met by the wonderful kiko bun at the hiddenwood stage. He played an amazing set, alongside the Nextmen, and it was a great way to kick off what was sure to be an amazing weekend.
We spent the rest of the day exploring what we could of Boomtown, because the main city wasn't opening until Friday. So we spent the day exploring the rest of what the festival had to offer, including the iconic Tangled Roots sound system stage. As night began to fall, we return to camp and decided that we would we would have a quiet night as we prepared for a very heavy weekend.
Thursday morning it was time to get up and the weather was scorching, sitting out in the heat was a very intense experience – but there was plenty of fluids and drinks on hand (and those slushes really made a huge difference). After having some breakfast (which included 6 hash browns in a bread roll) we decided that we would head out and explore the stages once again, and we hit the sound systems in a big big way. As everyone started to arrive to the festival on Thursday, the anticipation really began to build for what was sure to be a fantastic return to Boomtown, which was officially kicking off tomorrow.
When we woke on Friday morning we knew it was time to get ready and head out to the opening ceremony at the brand new stage Origin. Opening the festival in the official capacity this year, after the wonderful opening ceremony, was sir David Rodigan, and this was a real treat to see him up on the Origin stage playing to a crowd of what must have been nearly 25,000 people. Rodigan is a master and he did a fantastic job of kicking the festival off, and we were very much ready to keep exploring and seeing what the other acts had to offer. As we carried on exploring the music that day we found the dutty moonshine big band who really played an incredible performance, with their iconic cover of Bang Bang, which many people recognised from the Kill Bill movies. For us the night concluded with JungleCakes an iconic DnB performance, featuring the wonderful Ed Solo. What a way to end the first official night of Boomtown.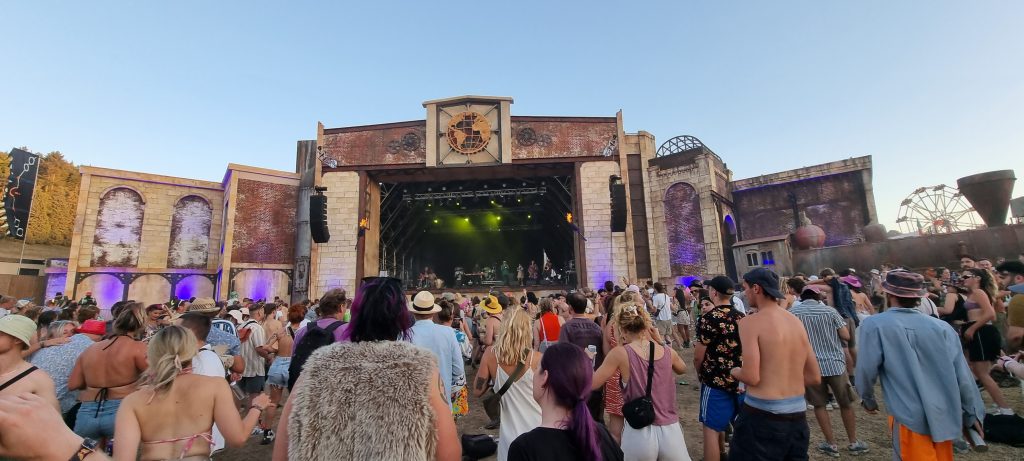 It's now the 2nd official day of Boomtown, Saturday is where it's at and the music was gonna carry on rolling, the heat was once again blistering and that got everyone in the mood for some music.
My favorite act from this day has got to be the wonderful Gentleman's Dub Club who played an iconic set with Johnathan Scratchly reaching all the way up into one of the towers on the Grand Central stage.
However the musical treats did not stop there, as we got to see Fabio and Grooverider with the Outlook Orchestra play a set which detailed the history of DnB music, and it really was something to behold. The outlook orchestra have also played sets with David Rolligan and they looked right at home on a big festival stage. Definitely a group that I hope we can see more of a Boomtown in the future.
At 11 PM, it was time to head back to the Origin stage so that we could catch Noisia's last ever UK set and it was absolutely incredible. To experience this for the first and last time as was the case for me was something I'll never forget, and Noisia are a group that should be absolutely cherished in British music history. The rest of the night consisted of sets from Gardna Catching Cairo and Maulgrab and the night raged on until the early hours.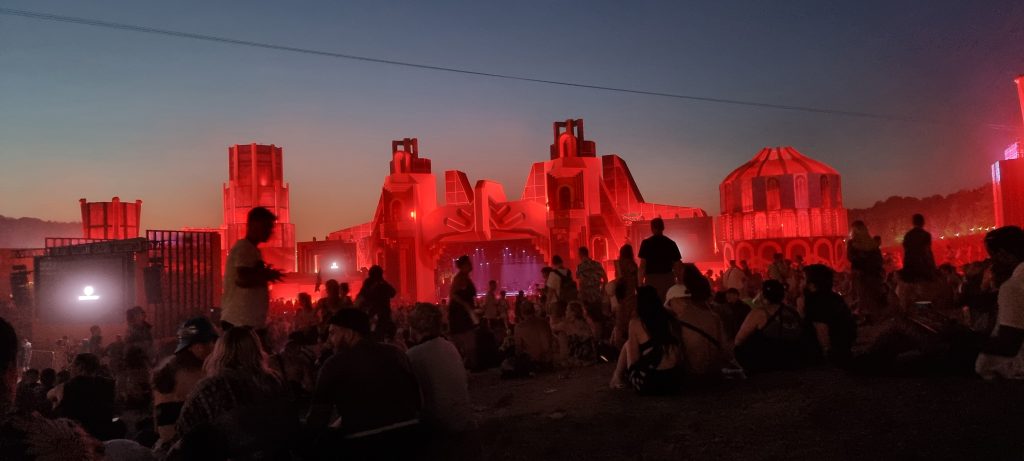 Sunday morning came round all too quickly as it dawned on us that it was our last day at Boomtown, however the good vibes did not stop rolling and there was definitely a wonderful energy in the air. Sunday kicked off with the Skint's followed by Mungo's Hi-Fi then you had Alborosie, Collie Budz, Eva Lazarus and so much more from the reggae side of things.
Sunday really was a very special day at Boomtown. We spent most of it at the Grand Central stage and were treated in the evening to performances by two iconic acts at opposite ends of the musical spectrum. Kool and the Gang played an amazing set, which had everyone on their feet and dancing. It was pure feel good vibes, as we got ready to see off another year at Boomtown. Following this, we were treated to a set from FourTet, which got everyone going real hard as we approached the closing ceremony.
A really amazing time was had by all at Boomtown this year and that feeling of peace love and unity was felt by all. The closing ceremony reminded us all to leave no trace and to leave the festival sight as we had found it respecting nature and the wider environment as a whole. These messages that Boomtown put out really are important and they help to achieve an amazing amount of good this year as the majority of people I saw were indeed leaving no trace and taking everything that they could home.
Overall, Boomtown gets a 10 out of 10 for its wonderful return. The set design was on point the lineup was fantastic, however we did sorely miss Lions Den and hope it will come back in future years. Boomtown, as always, seems to be going from strength to strength, and leans into its strength more than any other festival I've been to. It isn't just a festival based on the lineup it's based on the experience and I hope that's something that never changes.
Big respect to the whole Boomtown crew and everyone who made it down to the festival this year, see ya next time.