A spectacular journey through music, art, and culture – unveiling the vibrant highlights of an unforgettable weekend at Boomtown Festival.
By Brooking Roffey.
With another chapter of Boomtown in the books, it's time we look back at our highlights from the event. It was fantastic to be back in the hills of The South Downs National Park, just outside of Winchester, for a weekend of music, theatre, and creativity that Boomtown combines so well.
After the festival's triumphant return in 2022, Boomtown has built on the foundations laid from last year and once again exceeded our expectations.
So let's get into this.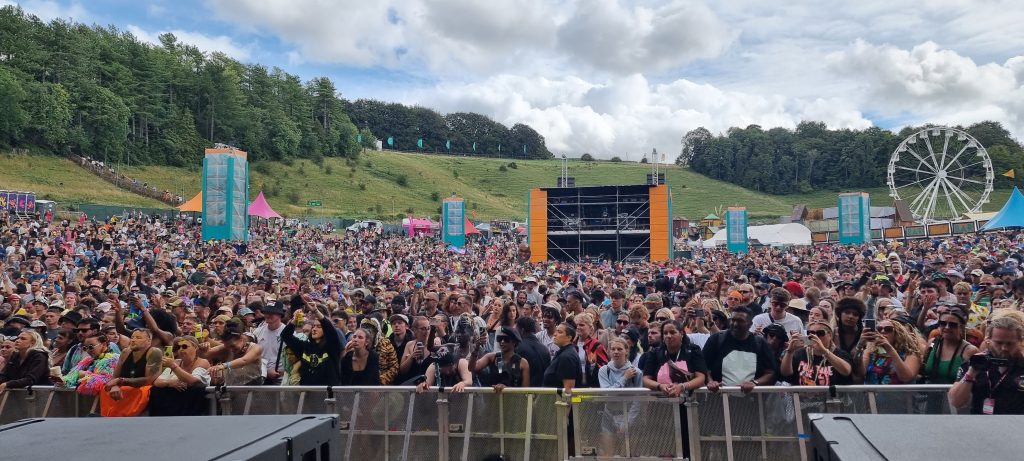 Arrival at the event was very smooth, and most people were not queuing for long before they got through the city gates and began setting up their tents, heading down to explore some of the music on offer on Wednesday afternoon. Boomtown's street parties returned, with one centered on reggae and the other on DnB. We headed down to catch OBF play a set. This was a fantastic artist to have on Wednesday as he had flown in from France specifically for the set. It was the perfect way to start the weekend.
There were also musical offerings at two iconic Boomtown venues: Tangled Roots, which was the home of all things reggae sound system for the weekend, and Hidden Woods, a beautiful stage nestled in the woods on the outskirts of the main Boomtown city. After a lot of dancing, it was time to grab some food, and the options did not disappoint. Plenty of vegan food was available and was quite popular too. After a bite, we headed to Tangled Roots to end our night with a reggae dance facilitated by Sinai Sound. Back at camp, you could feel the energy building as we all discussed what we were most looking forward to for the rest of the weekend.
Thursday arrived, and so did some more incredible artists. We got to see Catching Cairo, Kiko Bun, Congo Natty, and Jinx In Dub. These artists really rocked their Thursday sets, and by the end of the day, the energy was at a fever pitch as we knew that the next day, the official opening ceremony would mark the beginning of Boomtown Chapter Two.
We also took the time on Thursday to explore and appreciate the artistry of Boomtown. No other event creates such an immersive feeling with such exquisite attention to detail. This is not just a music festival; it's so much more. You could spend the whole weekend trying to unravel the Boomtown story by interacting with characters you meet on the streets. There's even a Boomtown currency distributed by the Bank Of Paradiso, a place where you'll find ravers dancing until the early hours once the sun has gone down. The point is that it truly feels like stepping into another world for a few days, and that's not easy to achieve for an event that will host over 60,000 citizens.
Friday brought the official start of Boomtown and was marked by the annual opening ceremony that takes place at both Grand Central and Origin, the two main stages whose scale cannot be understated. This year we were treated to an extravaganza at Origin that featured dancers abseiling down the monolithic structure as DnB filled our ears and fireworks lit up our eyes. These ceremonies are also a moment to be thankful for the land we'd be borrowing for the weekend and to ensure everyone understood that it was our collective responsibility to look after it and leave it as we found it. This is something that has always been a focus at Boomtown, and the festival has emerged as a leader when it comes to sustainable festival practices. Every guest was issued with an eco-bond that you could claim back for returning a bag of recycling at the end of the event, and there were volunteer cleaning crews constantly helping to keep the environment clean.
Friday's musical offerings ranged from Andy C to Reggae Roast, and in between those, we were treated to gems like Michah Shemaiah, who in my opinion, is one of the most underrated artists at Boomtown this year. His set at Hidden Woods was truly magical. On the DnB side of things, Sub Focus and Serum played mega sets long into the night.
For me, Saturday was my favorite day this year. From start to finish, we were treated to some of the best reggae artists on the scene today from all over the world. Eskimo Nebula kicked things off with a set in the Hidden Woods, fusing reggae dub and electronica together in epic style. After that, it was time to head to Grand Central to catch Gardna and friends. The Bristol-based artist wasn't kidding when he said he wasn't coming alone. DRS, Liam Bailey, Catching Cairo, Charli Brix, and Charlotte Haining joined him for a fun hour-long set. Next up, we took a quick trip to the Hidden Woods to see Mr. Williams, who delivered his unique sound to a packed crowd.
At half-past 5, it was time to enjoy a performance from one of reggae's biggest names, Barrington Levy. He tore it down, and everyone was singing along to his countless classics. Mungo's Hi-Fi played a great set with notable guests like Dawn Penn and Kiko Bun, while Skindred had everybody moshing at the Engine House. It was soon time for another iconic act to hit the Grand Central stage, Cypress Hill. This was part of Boomtown's celebration of 50 years of hip hop, and it's a set that I will never forget. They played all the classics, and the crowd was incredibly invested in this set.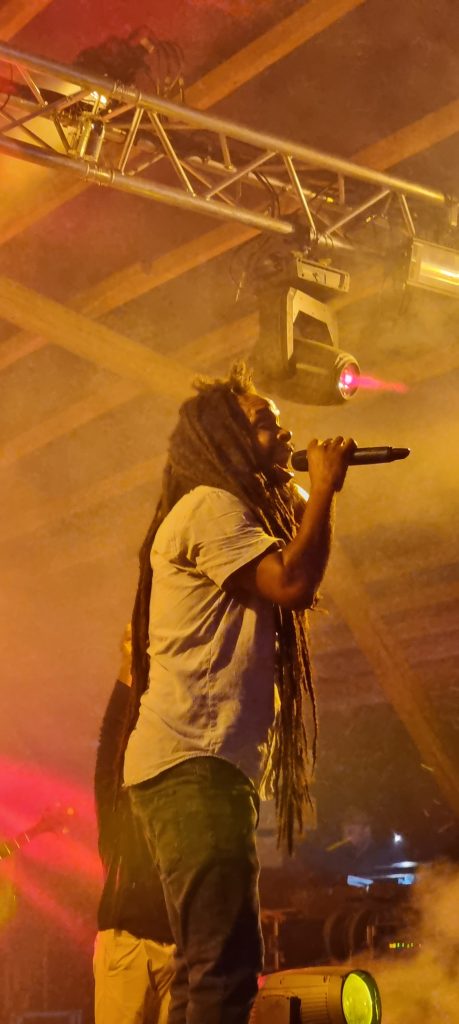 The fun continued at Grand Central late into the night with L'Entourloop, a collective who have carved out their own space with a digital reggae sound that is unique to them. If you missed this set, you made a mistake. And if you get the chance to see this group, you absolutely must. To finish the night, we headed to Origin to see DnB legend Goldie play late into the night.
Sunday was another packed day of music with Queen Omega, Beenie Man, and Kabaka Pyramid playing in succession at Grand Central. This led up to a wonderful, vibrant, and empowering set from Sister Sledge. Unfortunately, The Prodigy had to cancel due to an injury. However, we were treated to a last-minute set from Chase and Status to close the event at Grand Central. Meanwhile, over at Origin, Hedex played this year's closing set. Both stages would once again host the closing ceremonies for the event, and it was announced that Boomtown would be returning for Chapter 3 next year!
As always, it was magical to be back at Boomtown. This is always an event that we look forward to, and it's great to see the event go from strength to strength. We can't wait for next year and thanks to Boomtown for inviting us to the city for the weekend!