This article was updated at 6PM to reflect the new advice from the Government on shielding the vulnerable.
Over the last few days, the U.K.'s position on how it intends to manage the corona virus crisis has changed rapidly. Schools have now been closed, café's, pubs and restaurants have been ordered to close along with night clubs, theatres, cinemas, gyms, leisure centres and other social hubs. This is all part of the process known as social distancing where the government is asking people to stop any non-essential contact with others. Previously, it was the case that anybody who had the symptoms of coronavirus was asked to self-isolate at home to try to minimise the spread of the infection. Now though, everybody, whether they have the virus or not is being asked to stay apart as much as possible. However, given that this is an unprecedented situation for almost everybody at the moment there is still some confusion about who is allowed to do what. More information was released today that might add some clarity.
The message from the government and the NHS is clear. We must all practice good social distance. However, some are not following the given advice. Following reports of Britons irresponsibly gathering over this warm weekend, Prime Minister Boris Johnson said that a variety of additional measures will be considered 'in the next 24 hours'.
People who are particularly vulnerable to COVID-19 will be asked from Tuesday to self isolate for 12 weeks. This is different to social distancing, and the advice is now to not go outside at all (except within your own garden if you have one). Support will be provided, which is outlined in this article.
The overall aim is to shield the vulnerable with a major national effort.
Self-isolating – who needs to do it?
The new guidelines, issued today, ask any person in the following category to self-isolate for twelve weeks. This is because current evidence suggests that these people are at a higher risk from COVID-19:
people over the age of 70
people younger than 70, but they have an underlying health condition
people who are pregnant
people who are receiving chemotherapy or radiotherapy for cancer treatment
people with cancer of the blood or the bone marrow
people who are on immunosuppression medication, such as those who have received an organ transplant
people with severe chest conditions such as severe asthma or cystic fibrosis
people with severe diseases of the body systems e.g. severe kidney disease
and, as before: anyone who has come into contact with a person with COVID-19, or is showing the symptoms.
Up to 1.5 million of the most vulnerable people have now been asked to self-isolate at home for 12 weeks. The NHS will be contacting those who need to heed this advice by letter, text message etc.
Community hubs are being set up, with support from local councils and the armed forces, to coordinate the response across the United Kingdom.
Pharmacies have been asked to provide local deliveries to the shielded group, to ensure that medication can continue to get to people who need it.
Groceries will be delivered by local councils to people who are otherwise not able to access them. This will initially be free, and will take the form of parcels delivered on the doorstep. Communities Secretary Robert Jenrick said 'will become more sophisticated over time'. People can request these deliveries by telephoning the number or by visiting the website in the letter.
Can I visit my family?
Simply: no.
In today's press conference, extended family gatherings were identified as risky due to how likely people are to be in close proximity.
You can, of course, continue to support your friends and family who are self isolating by delivering supplies, but you must still practice social distancing advice and remain within your home where possible.
Social distancing – what does it mean?
Official government advice to help reduce the transmission of COVID-19 is to take the following steps:
avoid contact with someone who is displaying symptoms of coronavirus
avoid using public transport unless absolutely necessary
work from home wherever possible – your employer should be supporting you to do this
do not send children to school, unless you are a key worker
avoid gatherings in public spaces, be they large or small
avoid gathering with friends or family
use telephone or online means to contact your GP or to get to other essential services.
If you are at higher risk, social distancing is not enough any more. The advice is now to stay at home.
If you receive health and social care support, this should be continuing as normal.
I'm hating being stuck inside, can I go for a walk?
If you're social distancing or self-isolating – so, anyone in the UK who is not a key worker – going outside is discouraged.
Being stuck inside can be incredibly boring and frustrating, and it may directly or indirectly affect your mood, perhaps leaving you feeling low. It's incredibly important to look after your own mental well-being to keep yourself as happy as possible in what is a very challenging time. Therefore:
Try to stay as physically active as possible – The NHS has a list of exercises you can do at home
spend time doing what you enjoy – e.g. engaging in your hobbies and interests or watching and listening to programs that you know you like.
avoid unhealthy habits – try to eat as healthily as possible, drink enough water, try to avoid smoking, alcohol and drugs
get plenty of natural light in, and keep your windows open for as much fresh air as you can – if you have a garden, make use of it
if you are self isolating or being shielded, exercising outdoors is still allowed within your own garden. If you do not have a garden, you must not go outside.
Make sure you stay connected with family and friends as much as you can, and however you can. If it's possible, try to build in a routine of contact so everybody can stay connected. By doing this you will be helping others as much as you are helping yourself.
Do I still need to wash my hands?
For this, I refer you to the advice of Liam Gallagher (caution, foul language. Don't listen to this at work – especially if you're working from home with your kids in the room):
If you can't open that video right now, then the answer is very much: YES, YES, OF COURSE YES. Wash your hands more often with soap and warm water for at least 20 seconds. If soap is not available, use hand sanitiser. Avoid touching your eyes nose and mouth with unwashed hands, avoid contact with people who have the symptoms. Sneeze or cough into a tissue – bin that tissue immediately and wash your hands. If you don't have a tissue, sneeze or cough into your sleeve, not your hands.
How does social distancing differ from self-isolation?
Social distancing means trying to minimise social contact that you don't need. Self-isolation means staying at home and not leaving it for any reason. This means do not go to work or indeed outside during this time. If you're self isolating, do not go out to buy food or other essentials, in the next few days support will be offered to everyone who needs help accessing supplies. If you are social distancing, only go out if absolutely necessary and be responsible whilst shopping.
You need to self-isolate for 14 days if you show coronavirus symptoms or are in the same house or flat as someone who does. If you live alone, you can stay at home for seven days from when the symptoms start.
We like to put in our own legwork here, but the BBC have created a really fantastic diagram to show what a whole household needs to do, and we thought it was important to share. See below: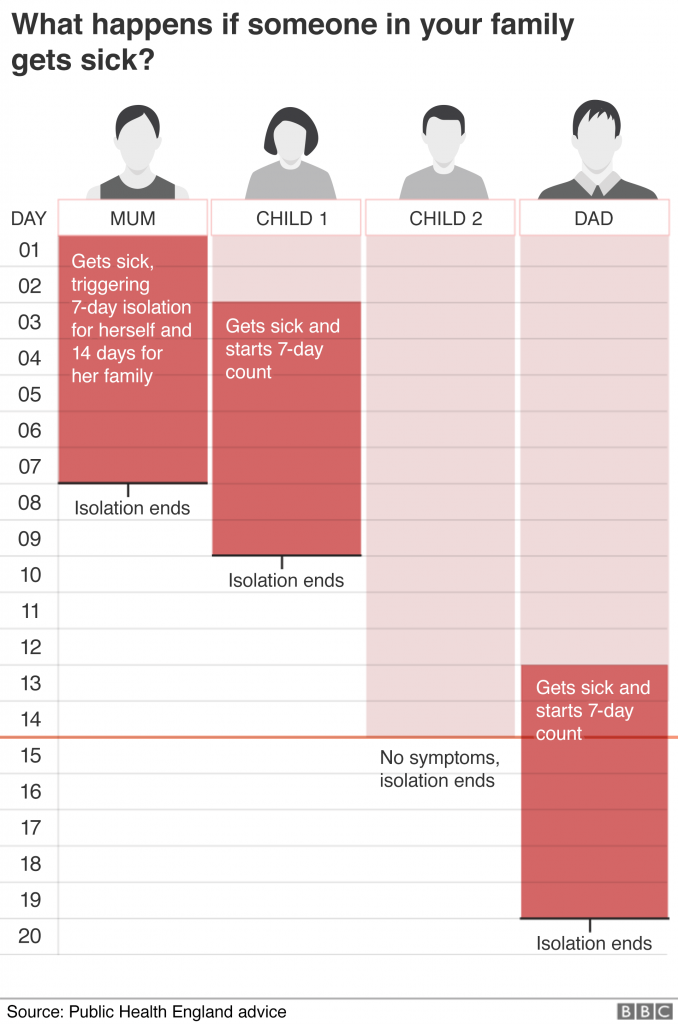 Be sensible, follow government advice where you can, look out for yourself and others. If the public don't follow these rules willingly, the government has made it perfectly clear they are more than happy to enforce them.
Cover image credit: Facebook