Students have criticised Royal Holloway's 'weak' response, following screenshots posted to social media, which allegedly show a first year Master's student at the university racially abusing a Black woman online, because of her skin colour.
Due to the distressing nature of these messages, Insanity Radio has opted not to publish them. The person targeted by this abuse wishes to remain anonymous. All names have been removed to respect the privacy of those who have complained.
The racist messages appear to have been sent from the student's personal Instagram account, which at the time of writing has been deactivated.
After screenshots of the incident were widely shared on social media, on Friday afternoon, Royal Holloway tweeted a response: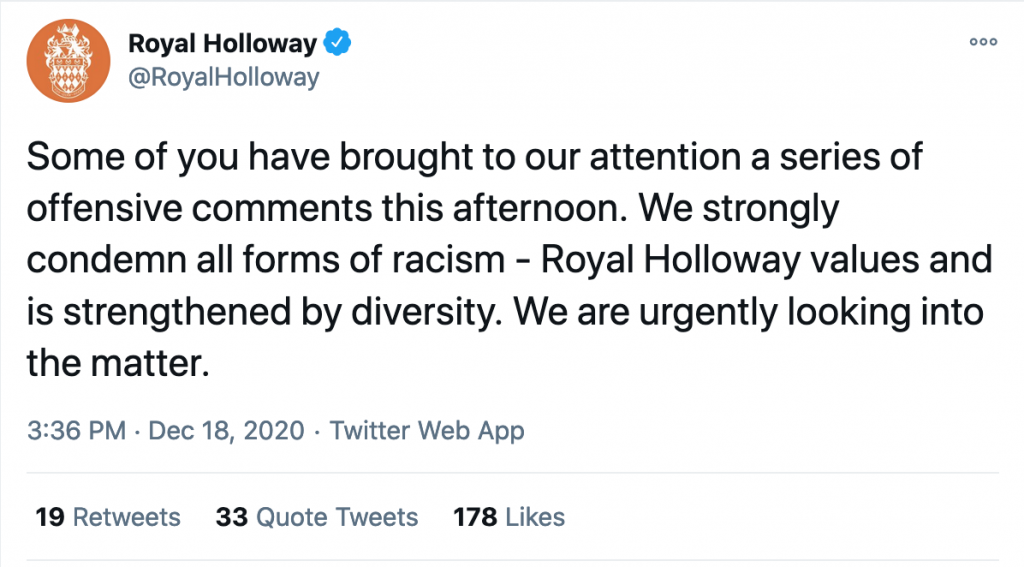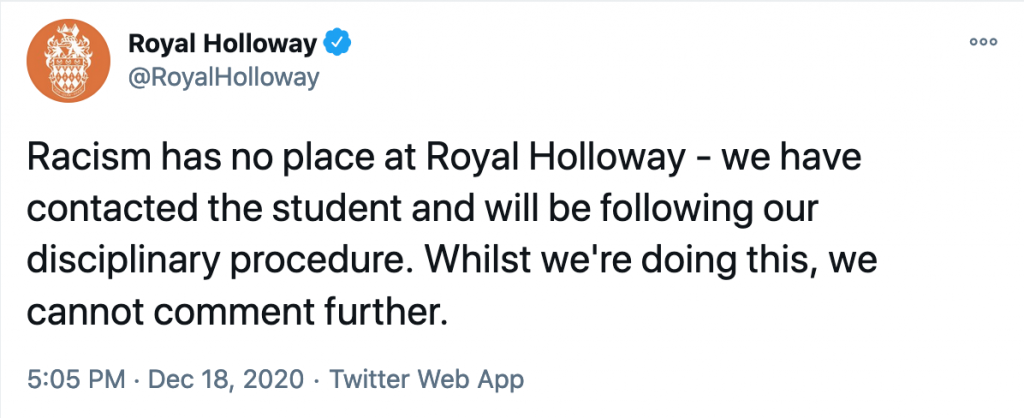 Students were quick to criticise the University's statement and, as described by one student on Facebook, 'subsequent inaction'. A few hours after it was released, the complainant received an anonymous message – allegedly from the student in question – with a chilling threat of violence. An open letter sent to the university by a number of students, seen by Insanity Radio, strongly criticises Royal Holloway for a "lack of disciplinary action being taken", and "lack of acceptable action taken by staff to combat [the wider] issue".
"The recent racist attacks upon members of the Royal Holloway student body have disgusted and angered many, but they have not come as a surprise. Black students at this University have consistently been targeted and harassed by a small minority of students who have deemed it acceptable to discriminate and verbally assault students simply for the colour of their skin. Enough is enough.
"I am utterly disgusted at the lack of concern for racial discrimination from university staff and await your response of how you intend to discipline this student. POC should never be subject to this abuse and until appropriate action has been taken, you are complicit in systemic racism; God forbid a student harms themselves due to this."
It is not yet clear what action has been taken by the University. In a statement, Royal Holloway said they have opened a disciplinary investigation, and "will not hesitate to use the full breadth of the measures and sanctions available to us, however, while the investigation is ongoing, we cannot comment further". The university's disciplinary policy states that a student may be suspended, pending the outcome of an investigation into a possible criminal offence.
If you are affected by the issues discussed in this article, help and support is available. If you're a Royal Holloway student, you can reach out to the SU Advice Centre, talk to Student Wellbeing, or raise concerns via the University's Be Heard programme. RHUL ACS encourage any Black student who has experienced racism on campus to reach out to them. The BBC Action Line has a list of organisations you can reach out and talk to.